Tungsten Carbide Rods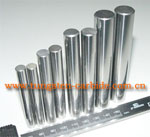 Tungsten carbide rods are mostly applied for drill bits, end mills, and reamers with sub-micron grain grade YG10X, for non-ferrous precision cutting and wood cutting with grade YG6X, and for fiberglass reinforced plastics, titanium alloys, hardened steel with ultra-fine grain grade YG8X, etc.
Tungsten carbide rods CHINATUNGSTEN ONLINE can manufacture and supply are varied in different sizes as well as tungsten carbide grades. Following is a detailed description of one kind specification of tungsten carbide rods:
Specificaiton: Diameter:1.5 mm x 330mm
Surface Condition: Sintered blank
Chemical Composition: WC88.5% + Co10% + Others 1.5%
Density: 14.2~14.6 g/cm3
Hardness: HRA91.5 min.
T.R.S.: 3200N/mm2 min.
Specifications of Unground sintered carbide rods: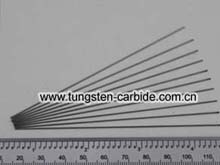 Unground sintered carbide rods - length<100mm
Unground sintered carbide rods - length 100~150mm
Unground sintered carbide rods - length 310mm
Unground sintered carbide rods - length 330mm
Specifications of Ground tungsten carbide rods:
Ground tungsten cemented carbide rods ISO h6- length<100mm
Ground tungsten cemented carbide rods ISO h6- Length 100~150mm
Ground tungsten cemented carbide rods ISO h6 (Inch)
Milling Cutting Blanks ISO h6, Chamfered one end
There are many different choices in diameters, lengths and chemical compositions, which could all be manufactured according to clients' special requirements. Therefore, if you have interest in buying tungsten carbide rods, please do not hesitate to e-mail us with your specific requirements by : sales@chinatungsten.com
Inquiry | Feedback | Suggestion | Comment